Aconcagua Normal Route – with acclimatization at El Plomo, 5,450M – Chile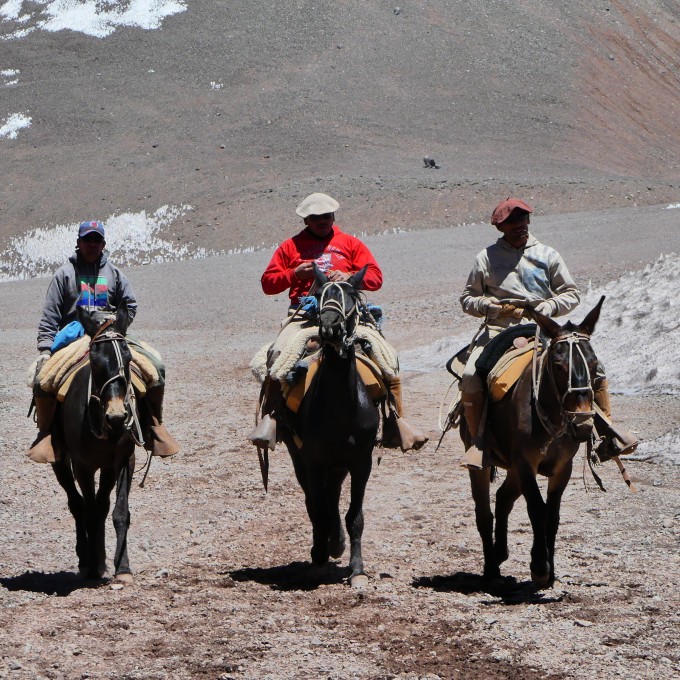 Tour Description:
Expedition to the roof of America, Mount Aconcagua 6,959 mts along the normal route, through Plaza Mulas base camp at 4,300 mts. with a previous acclimatization program in the nearby peak El Plomo on the Chilean side, both two ritual Inca sites from the Andes. Our first objective, El Plomo with an elevation of 5,450m. located east of Santiago the capital of Chile and nearby main Chilean ski resorts will help us in a comfortable timing, acclimatize to the high altitude environment. Later we fly to Mendoza over the highest Andean mountain range to get our mandatory Aconcagua permits and been transfer to Penitentes 160 km west of Mendoza where the trek start towards Plaza de Mulas. As we had all ready gain 5,450m at El Plomo, our ascent progression to Aconcagua summit at 6,953m will be much gentle, easy and quicker.
Jean Pavillard,
Internationally Certified Mountain Guide
Day by Day itinerary:
Day 1
Picked up Arturo Merino Benitez airport in Santiago and transferred to Hotel to meet the guides, gear check and have a power point expedition presentation. Later meet the Guides and members for dinner.
Day 2
Transfer to Farellones village in 1 hour at 1800 mts for trekking journey to gain slowly altitude. We will see big Condors in an area call Parva alemana. Hotel la Cornisa.
Day 3
Transfer to the highest point of La Parva ski area located at 3.500 mts call also Portzuelo del Franciscano and start trekking to Piedra Numerada at 3.300 mts about 3 hours way. Camp
Day 4
Hike to La Olla camp located at 4.000 mts and return to Piedra Numerada base camp. Camp
Day 5
Move to la Olla camp. Camp
Day 6
Summit day on El Plomo at 5.424 mts. As we have been moving slowly days before our summit day will be very comfortable and easy to achieve in about 7 hours. Return to La Olla camp. Camp
Day 7
Return down to La Parva through Cancha Carrera to La Parva and be the way hike El Pintor 4.000 mts. Transfer to Santiago to Hotel Kennedy for good rest and dinner. Hotel
Day 8
Early transfers to the airport and fly 30 minutes to Mendoza Argentina. Transfer to Aconcagua office for permits and transfer in a 3 hours drive to Penitentes. We use Hotel Ayelen located in this little ski area at 2.600 mts. Hotel
Day 9
Transfer to Aconcagua park ranger station for registration and start trekking 3 hours to Confluencia middy camp located at 3.300 mts. Camp
Day 10
We continue on towards Plaza de Mulas base camp at 4,300m of elevation. This is a 7 to 8 hour hike to our Plaza de Mulas camp. Our Chef awaits us here with a big dinner and hot drinks. Tent.
Day 11
Rest at Plaza de Mulas base camp. It is necessary to drink plenty of water and rest to achieve a good adaptation to the altitude before continuing on to the high camps and before summit day. Tent.
Day 12
Ascent and portage to Nido de Cóndores high camp at 5,380m and return to Plaza Mulas camp. Tent.
Day 13
Rest at Plaza Mulas. Tent.
Day 14
Ascent to Nido de Cóndores high camp. Tent.
Day 15
Ascent to high camp 2, Berlin, at 5,850m. Tent.
Day 16
Summit day and return to Berlin or Nido. Tent.
Day 17
Extra day to allow for weather conditions at Berlin or Nido high camps. Tent.
Day 18
Extra day to allow for weather conditions at Berlin or Nido high camps. Tent.
Day 19
Descent to Plaza de Mulas. Tent.
Day 20
From Plaza de Mulas we have mules to help carry out our gear, allowing for a "light" trek through Playa Ancha and Horcones Valley to the village of Penitentes in a 6 to 7 hour hike. At the Park Rangers station transport awaits us to take us to Santiago and reach the comfort of this beautiful Chilean city and meet later for our group dinner at a super local restaurant with all the guides and assistants. End of expedition. Hotel Kennedy or Hyatt.
Duration: 20 days
Difficulty: Technically easy, but physically and psychologically demanding.
Departures: custom basis only Expedition.
Form your own group and choose your own dates!

Cost: Base on number of participants & services.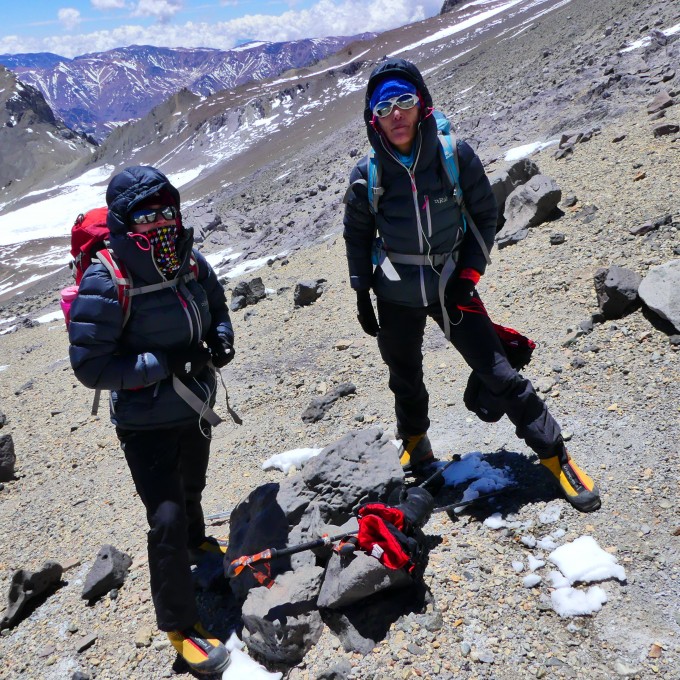 Services Included:
Professional Bilingual Mountain Guide.
All local organization and supervision by Swiss mountain guide Staff.
Airport assistance in Santiago & Mendoza.
Flight Santiago – Mendoza – return with 20 kg.
Private transportation including airport pick up and drop off.
Santiago two Hotel nights, with breakfast..
Mendoza Hotel night, with breakfast.
Penitentes  Hotel night with half pension.
All meals during the expedition. Including the before in Santiago and final dinners in Mendoza.
Full base camp set up dining tent, chair, tables, etc.
High quality expedition common gear: North Face, Mountain Hardware and Marmot tents, mattresses, high camp stoves & Gaz.
Permanent access to hot drinks, tea, coffee, biscuits at base camp tent.
Mules for individual gear to base camp and return with 30 kg. pp. at El Plomo and Aconcagua base camps.
First aid kit, hyperbar chamber, oxygen bottles, oximeter.
Aconcagua climbing permit and permit fee.
Radio communication VHF 2 mt & BLU HF.
Satellite phone available on a per minute payment basis.
Porters between base camp, Nido de Condores.
Services not Included:
Flight to Santiago
All personal climbing equipment gear.
Excess gear on mules.
Porter for personal gear.
Any cost involve in an early departure.
Any drinks in Santiago and Mendoza.
Accident and rescue insurance.
Cash for extra expenses.
Any other service not mentioned in the list.
*Important
All itineraries are subject to change due to changes in the weather, individual's acclimatization rates and the guide's preferences. *Personal porter service available upon request at additional cost.