Itinerary:
A beautiful trek in the Vilcanota cordilleras South-east of Cusco. Not many people explore this region that offer incredible views of snow peaks and glaciers, deep valley with farms land and many Llamas & Alpacas, turquoise lakes, the rainbow mountains.
This a a high altitude trek and a good level of fitness is require. The highest pass is at 17,060ft.
Day 1:
Travel to Cusco 3,400m.Great flights via Lima. Transfer to your hotel, rest and review trek and conditions. Check equipment
Day 2:
Acclimatization near Cusco (the entire trek is above 3,400m. 11,155ft.) so a good hike will be beneficial. We will hike from the Plaza de Armas to "Sacsayhuman archeological site" approximately 50 minutes. After visiting the site we will hike back to town and visit this incredibly beautiful city, Cusco.
Day 3:
Transfer to Tinki 4,000m /13,123 ft. By bus. Hike to Upis 4,100m/13,450 ft. We will drive south-east of Cusco for 100km. We will stop in Ocongate for a drinks then continue on to Tinki were we will meet our arrieros with all are equipment. will load the horses before starting our trek toward Upis. first along the Vilcanota valley with great views of Ausangate and Upis camp near the hot spring.
Day 4:
Upis camp to Puca Cocha 4,600m/ 15,091 ft via Arapa pass 4,850/15,912 ft. To Puca Cocha lake camp. a beautiful trail lead to a high pass with amazing view of Ausangate. will continue down to Pucha Cocha lake and a short hike uphill to our camp with lake views
Day 5:
Puca Cocha lake camp to Amanta 4400m/14,435ft via Puca cocha pass at 5051m./16,571 ft. And Amanta camp. A steep trail with interesting feature lead us to Puca Cocha pass at 16,571 t. A high pass but incredible setting, on the way down to Amanta camp we will crosses high pastures were Lamas, Alpacas graze peacefully.
Day 6:
Amanta to Rainbow mountains 5,200m/17060 ft. To Ausangate lake 4300 m/ 14,107ft. And Amanta camp 4400m./14,435ft.
The must see "Rainbow mountains" a very early start with our head lamp lighting our trail we will slowly head toward the Rainbow mountain and discover this incredible site. return to camp by mid afternoon.
Day 7:
Amanta camp to Jutumpata 4,400m/14,435 ft. Via Pulomina pass 5,200/17,060ft. Jutumpata camp. A long day at high altitude but what a trek. today we will experience amazing mountains views, herds of Lamas and Alpacas, wild life, small arming settlement to our camp planted in the middle of a beautiful meadows.
Day 8:
Jutumpata camp to Qampa Bc via Qampa pass 5000m./16,404 . Qampa base camp. A more relaxing day along the valley floor up and over Qampa pass at 16,404ft. Down to out base camp for another night and getting ready to climb Nevado Quampa at 18,040t. (of course this is a optional activity)
Day 9:
Ascent of Nevado Qampa 5,500m / 18,040 ft return to Base camp. And or Tinki
Day 10:
Pacchanta village 4,100m/13,451 ft to Tinki 4000m./ 13,123 ft. and Cusco
Day 11:
Continue to Machu Picchu or flight back home.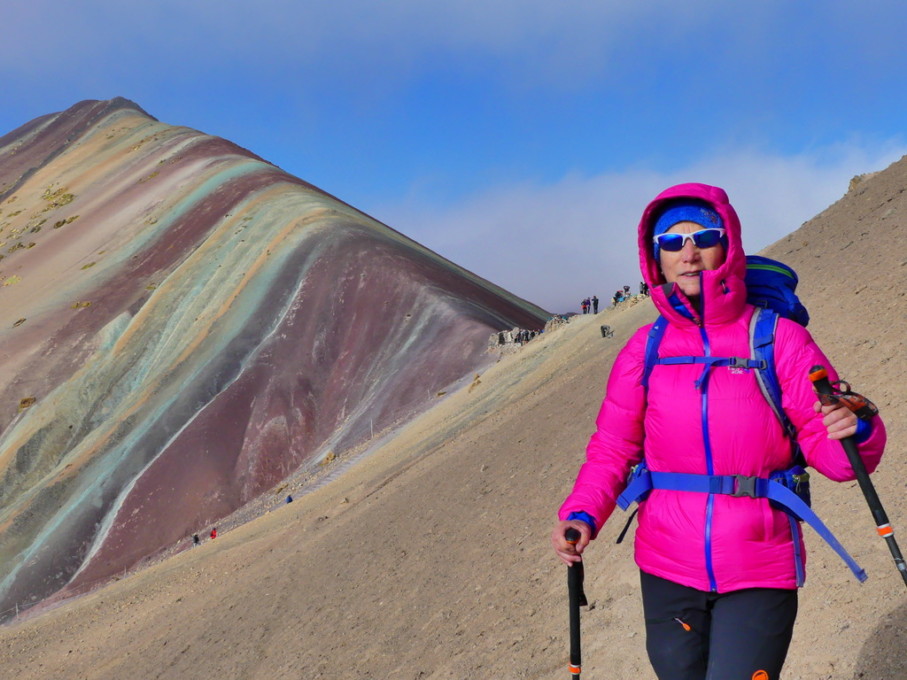 Informations:
The entire trek is 70 km long (45 miles). There is some steep hills to hike. As you can see some good vertical gain and loss each day
Temperature are of high altitude up to 15 degrees celsius (59 Fahrenheit)during the day to minus 10/15 degree celsius at night (5 Fahrenheit)
Design your own trek. Let us know