Tour Description: Season 2021
An adventurous exploration of Aconcagua 6,963 m. We will make a new traverse of the mountain and experience its entire character. Our route via the Ameghino & UPPER Guanacos valley is a new semi wild and pristine alternative to the heavily traveled route of the Horcones alternative.
The Ameghino & Upper Guanacos traverse offer breath-taking views of the neighboring peaks and glaciers. We connect the Guanacos by traversing from camp 1 of the Polish route through the Ameghino saddle to camp 3 of the Guanacos variant, is a very easy and beautiful traverse. In addition this route use all benefits of the Plaza Argentina base camp like permanent Doctor, stationed porter staff, daily mules arrival for any emergency, etc…. this route also offers a gradual approach and climb of Aconcagua, using 3 high camps. During the trekking program we add an extra day at Casa de Piedra to ease up the altitude gain. We believe that an un-hurried acclimatization will offer a safer and more comfortable climb, and a rate of success not possible on other routes.
While this route offers a more gradual ascent of the mountain than other routes, it does not come with out any difficulty. Even with our "double carry" strategy between camps, which benefits us in many ways; participants still need to be able to carry a backpack weighing between 30 and 40 pounds (14-18 kgs.Porters available .) Carrying these loads becomes harder as we move up the mountain, as we are able to utilize less and less O2 in the atmosphere. However, keep in mind that you will be getting more and more acclimatized as the days progress. These heavier packs will be carried between camps on our portages and moves, sometimes on steep loose terrain. The portages and moves, even with these loads, generally take between 3 and 4 hours to the next camp. Together with a slow steady pace set by your guide and proper use of the rest step it becomes quite attainable. Our schedule, while on the route, is actually quite relaxing. We allow ample time for sleeping and packing up in the morning. You will be eating very good meals and drinking lots of water/juice and hot drinks.
Please take a look at our training program. By following this program you can assure yourself that you will be arriving  ready for what is soon to become a truly memorable, enjoyable and successful experience, whether this is a one time thing or part of your quest for the 7 summits.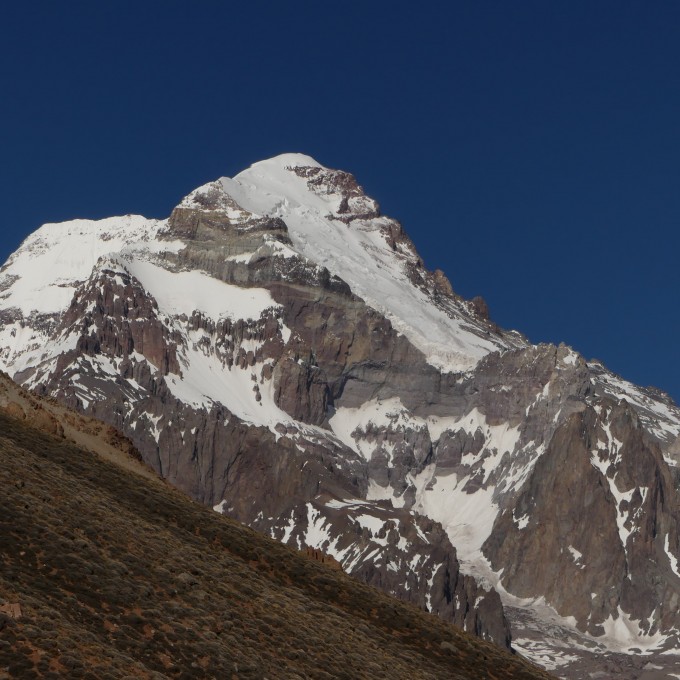 Duration: 20 days
Difficulty: Not technically difficult but physically demanding
Departures:  February is my prefer time
Day by day Itinerary:
Day 1:
Picked up Plumerillos airport at Mendoza and transferred to Hotel to meet the guides, gear check and have a power point expedition presentation. Later we go have a great Argentinean asado.
Day 2:
Transfer to Aconcagua Provincial Park permit office, to obtain the respective climbing permits, a mandatory personal procedure, and then head west to the village of Penitentes, situated at the foot of the valleys that access the mountain. Lodging at Hotel Penitentes.
Day 3:
The Aconcagua Express vehicles transport us to the area called Punta de Vacas where we begin the first day's trek towards the foot of Aconcagua through Vacas valley. This is a beautiful less traveled route with greener landscapes than the normal route. After 4 to 5 hours of hiking we reach our first camp called Pampa de Leña situated at an elevation of 2,800m (9,330f) Here we eat a delicious barbecue along with the muleteers while the animals graze. Tent.
Day 4:
Continuing along the same valley for 6 to 7 hours, we reach Casa de Piedra camp situated at an elevation of 3,200m (10,665f). From camp up through the Relinchos pass we can clearly see the Polacos glacier on Aconcagua. Tent
Day 5:
Today we make an easy hike from Casa de Piedra that will help us adjust our bodies to the altitude. We had great results with this additional relax journey last season. Tent
Day 6:
We climb up the steep and marvelous Relinchos valley to our base camp called Plaza Argentina situated at 4,200m (14,000f). This is a 7 hour day where we climb 1,000 vertical meters to reach Plaza Argentina. Our chef awaits us with hot drinks and a big dinner. Tent
Day 7:
Rest day at Plaza Argentina base camp. It is necessary to keep hydrated and rest in order to adapt well to the altitude before continuing on to the high camps and before summit day. Tent
Day 8:
Without the help of the mules, we begin our first day of portage, carrying small personal and common gear to deposit it at what will be our high C I, situated at 4,530m (13,600 ft). We return to base camp. It is crucial to take advantage of the comfort of our base camp and achieve a slow and safe acclimatization from the start. Tent
Day 9:
Rest day at Plaza Argentina base camp. Tent
Day 10:
Today we climb to high C I at 4,530m (13,600 ft). with the rest of our gear. This climb is the beginning of the ascent to the summit leaving base camp behind. All unnecessary equipment will be left here at Plaza Argentina to be carried out on the mules. Tent
Day 11:
We start our second load carry to C II 5,500m (18,000 ft) and the connection with the Upper Guanacos route by crossing the Ameghino pass and a gentle traverse that reach camp 3 of Guanacos. We return later to camp 1 of the Polish route. Tent.
Day 12:
Climb with remaining gear and establish C II (Guanacos C III). Tent Day 13: Rest and acclimatization day. Our bodies are in need of a rest day. This day has proven to make all members so much stronger higher up on the mountain. Tent
Day 14:
We make a relatively light portage/acclimatization hike to our high camp. A.K.A. Piedras Blancas, Colera, or C IV at 6000m (19,600 ft), and return to sleep at C II. Tent
Day 15:
We climb from C II (5,500m) to Piedras Blancas at 6,000m (19,600 ft). From this high camp we can reach the summit in one day. Camp at Piedras Blancas. Tent
Day 16:
Rest day here before using our summit day's budget. Tent
Days 17, 18 & 19:
From Piedras Blancas we are now ready to attempt the summit, at an elevation of 6,959m (22,834 ft), so we wait for the best climatic conditions for this purpose. After reaching the summit we return, tired, to Piedras Blancas. Tent
Day 19:
We come down from Piedras Blancas on the normal route to Plaza de Mulas at 4,200m where our Aconcagua Express Chef, Jorgelina Gonzalez, awaits us. This base camp has showers, satellite telephone, and an exquisite menu especially prepared for our expedition. Tent.
Day 20:
From Plaza de Mulas we have mules to help carry out our gear, allowing for a "light" trek through Playa Ancha and Horcones Valley to the village of Penitentes in a 6 to 7 hour hike. At the Park Rangers station transport awaits us to take us to Mendoza. We meet later for our group dinner at a super, local restaurant with all the guides and assistants. And the next day transfer to the airport or continue relaxing on your own time (End of expedition). Hyatt.
Important:
All itineraries are subject to change due to changes in the weather, individual's acclimatization rates.
Personal porter service available upon request at additional cost.
Private expedition, customize itinerary available. contact us for more details
Expedition cost: Base on number of participants, services.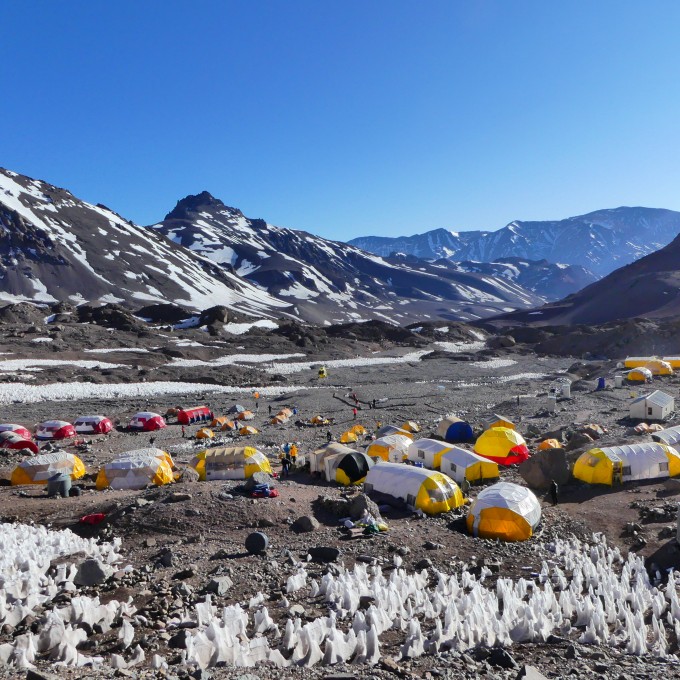 Services Included:
Professional Bilingual Mountain Guide.( lead guide: Jean Pavillard)
All local organization and supervision by Swiss mountain guide .
Private transportation, including airport pick up and drop off.
Mendoza airport assistance.
Mendoza Hotel nights.
Penitentes Hotel night. with breakfast.
All meals during the expedition, starting in Penitentes.
Full base camp set up dining tent, chair, tables, etc.
High quality expedition common gear: The North Face, Mountain Hardware and Marmot tents, high camp stoves & Gaz.
Permanent access to hot drinks, tea, coffee, biscuits at base camp tent.
Mules for individual gear to base camp and return with maximum of 20 kg.pp.
First aid kit, hyperbaric chamber, oxygen bottles, oximeter, including O2 at our high camps.
Radio communication VHF 2 mt & BLU HF.
Satellite phone during the entire expedition on a per minute payment basis.
Porters for group gear from Camp IV to Plaza De Mulas.
Services not Included:
Aconcagua climbing permit. ( approx $ 900 mid-season)
All personal climbing equipment gear.
Excess gear on mules.
Porter for personal gear.
Any costs involved in an early departure.
Hotels and meals on the return
meals in Mendoza.
Any drinks (soda, beer or wine).
Accident and rescue insurance.
Cash for extra expenses.
Gratuities are not included.
Any other service not mentioned in the list.