Aconcagua  Normal Route – 6,963 m.
Expedition to the roof of America, Mount Aconcagua 6,963 mts along the normal route, through Horcones valley and Plaza Mulas base camp at 4,300m. After a progressive ascent program reaching the high camps Nido Condores 5380m and Berlin 5,850m we have several days to climb the final step to the summit at 6,959m.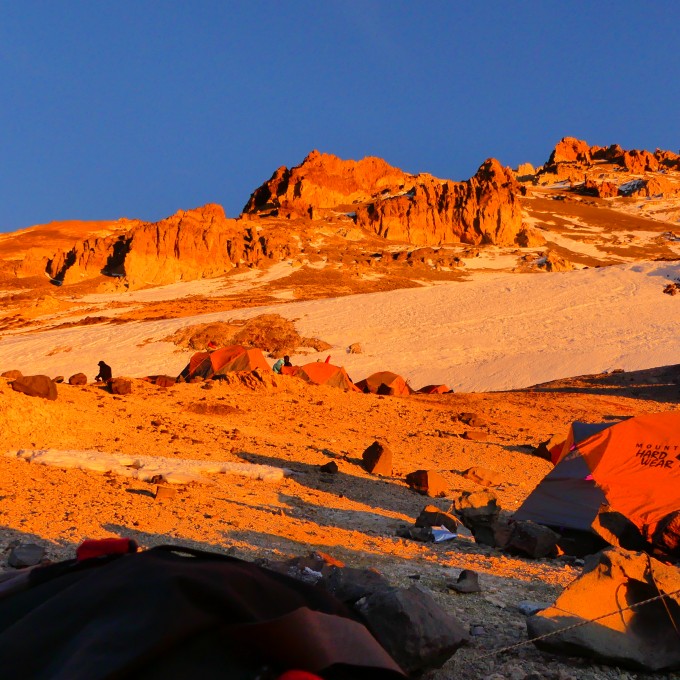 Duration: 18 days
Departure: From mid-December until end of February
2021 season custom basis only, call for details.
Day by day itinerary
Day 1: Pick up at Plumerillos airport in Mendoza and transferred to Hotel to meet the guides, gear check and have a power point expedition presentation. Later we go to have a great Argentinean Asado. Hotel
Day 2: Transfer to Aconcagua Provincial Park permit office, to obtain the respective climbing permits, a mandatory personal procedure, and then head west to the village of Penitentes, situated at the foot of the valleys that access the mountain. Lodging at Hotel Penitentes. Hotel
Day 3: After carrying out the park entrance procedures, we begin a three-hour hike through Horcones valley to Confluencia Inferior situated at 3,300m. Tent.
Day 4: Trek to Plaza Francia at 4,100m, situated at the foot of the southern wall of Aconcagua and from where we can observe some of the climbs and variants achieved by the most well known mountaineers from around the world. Return to Confluencia camp. Tent.
Day 5: We continue on towards Plaza de Mulas base camp at 4,300m of elevation. This is a 7 to 8 hour hike to our Plaza de Mulas camp. Our Chef awaits us here with a big dinner and hot drinks. Tent.
Day 6: Rest at Plaza de Mulas base camp. It is necessary to drink plenty of water and rest to achieve a good adaptation to the altitude before continuing on to the high camps and before summit day. Tent.
Day 7: Ascent of peaks near Plaza Mulas base camp. Tent
Day 8: Carry to Camp Canada or Nido de condores, depending on the group and the guide. Tent Day 9 Rest in Plaza Mulas base camp. Tent.
Day 10: Move to Camp Canada or to Nido de Condores. Tent Day 11 Move to Nido de condores if the previous night was in camp Canada or rest in Nido de Condores. Tent
Day 12: Either rest in Nido or move to high camp. Tent
Day 13: Move to Piedras Blancas camp (A.K.A. Colera camp) or first summit day. Don't get to anxious about rushing up to the summit. Tent
Days 14 – 16: Summit days and return to high camp. Tent
Day 17: Descent to Plaza de Mulas. Tent.
Day 18: From Plaza de Mulas we have mules to help carry out our gear, allowing for a "light" trek through Playa Ancha and Horcones Valley to the village of Penitentes in a 6 to 7 hour hike. At the Park Rangers station transport awaits us to take us to Hotel Mendoza to reach the comfort of this beautiful Argentinean city and meet later for our group dinner at a super local restaurant with all the guides and assistants. End of expedition.
Cost: Base on number of participants and services included.