Aconcagua – an expedition to the roof of South America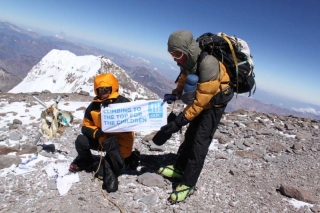 Trip Information: Aconcagua
Trip Summary
Our Aconcagua expedition begins and ends in the city of Mendoza, Argentina. Mendoza is a charming city of wide boulevards, sidewalk cafes, lush, colorful parks, and friendly locals. It is bustling with summertime activity and is a perfect city for walking.
Our first step of the expedition will be to check your gear in your hotel room, ideally, after you have rested from crossing the globe.
Gear check is a critical step. It is important to bring the essential items you will need to climb to the Top of the Americas. Although times are changing, do not count on being able to find what you need once you get to Argentina. Mendoza is your best bet to buy or rent gear, although it is not always easy to find at the last minute. Make sure you leave home with everything on your equipment list. If you are having serious difficulty finding a particular item, please let us know before you leave for South America! We have a limited amount of rental equipment.
A group meeting will follow gear check. We will introduce your guides and team members and talk about several aspects of your expedition. We will discuss the philosophy and style of the expedition, the effects of medications at altitude, sanitation, water treatment, teamwork, and the art of climbing big mountains. Dinner will take place immediately after the meeting, at a fine Mendoza restaurant reached via a pleasant walk from the hotel. We will have a chance to taste gourmet Argentinean cuisine, fresh beef and delicious wines (there are plenty of alternatives for non-drinkers and vegetarians in the group as well). Be prepared for a late dinner, since dinnertime in Argentina begins at 9:00 PM!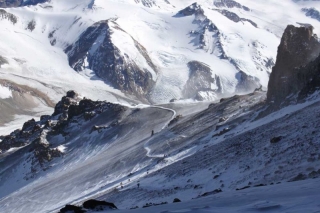 The next morning we will visit the office of the National park and get our climbing permit before traveling with our van to Penitentes, a ski area on the Argentinean side of the dramatic Andes Mountain Range. This is a spectacular 3 to 4 hour ride from Mendoza, ascending over 10,000 feet through rugged mountain scenery. Approximately 100 miles after leaving Mendoza driving west through the expansive Central Valley, we will stop for lunch and then continue heading west towards the Cordillera de Los Andes (the Andes Mountain Range). We follow the Mendoza Valley, gaining altitude as we drive deep into the jagged Andes. Imposing peaks and profound valleys line our route as we approach Penitentes. Once in Penitentes we do our last minute packing, arrange mule loads, and then have a free time to enjoy a hike or just to relax. Penitentes is the beginning of our acclimatization process, and although we are at only 8500' the time spent here is essential to our slow building process of reaching 22,834'! Our body is a high performance machine and it starts compensating right away to the lower oxygen environment, even in Penitentes, producing more red blood cells which is exactly what we want it to do!