NAYA KANGA (5,844m/19,180ft)
Naya Kanga Peak (5846 m) is situated 99 miles north of Kathmandu valley in the  Langtang region. This peak is seldom climbed and  require basic mountaineering experiences and good physical fitness. Naya Khanga (5846 m/19.180 ft) rises east of Kanjing Gompa (3850 m) and west of Ganja La ( 5110 m) Naya Kanga is  also known as Ganja La Chuli.  Usually after a Day rest in Kanjing Gompa and acclimatization on Kanjing Ri 4600m. Tserko Ri 4980m. or Yala 5,500m. We will be ready to climb Naya Kanga.  
This trek, climb explores the area immediately to the north of Kathmandu, an old caravan route between Nepal and Tibet.  Whilst passing through Yak pastures, you have the chance to gain an insight into the life and culture of the Sherpa, Buddhist villagers as well as the Tamang and Tibetan communities.  There are superb views of Langtang Lirung (7,234m) and Dorje Lhakpa (6,966m).
We have the possibility to hike back to Katmandu via Helambu if the KangjaLa pass is clear of snow or via Gosainkuda trekking route. great options as it will make a full circle, visits another valley less travel.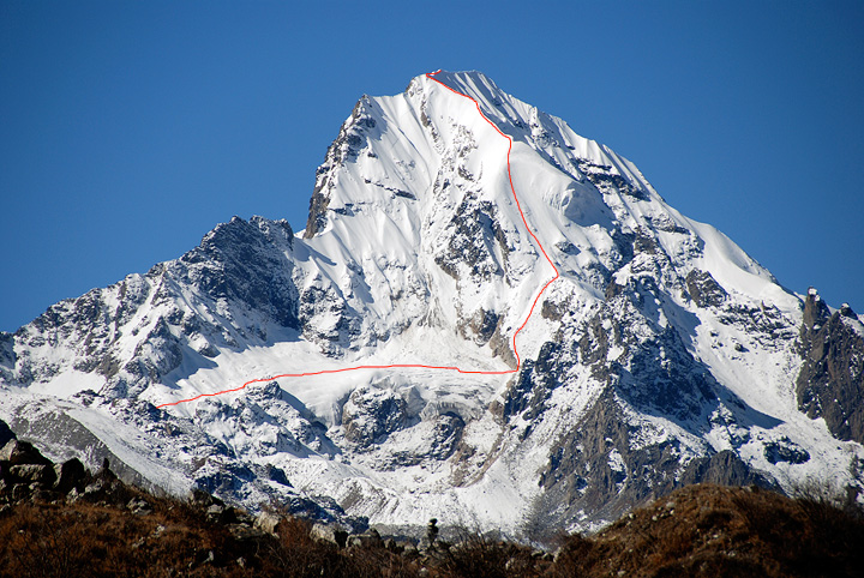 Naya Kanga
YALA (5,500 m./ 18,044 ft)Beautiful trekking peak that can be climb as acclimatization for Naya Kanga or as an objective by itself . Great views, not technically difficult, and great combination with one of the trek allowing you to return on foot all the way to Kathmandu .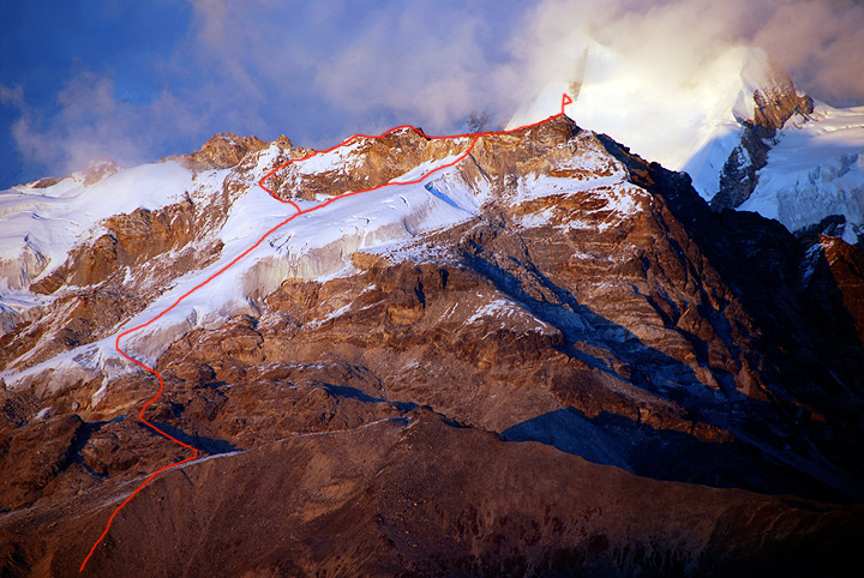 Yala peak
Best season: April-May / October -November
ITINERARY:
Day 1:  Arrival in Kathmandu, transfer to hotel and rest
Day 2: Review expedition, conditions and gear. enjoy a city tour
Day 3: Drive from Kathmandu to Shyabru
Day 4: Shyabru – trek to Lama hotel
Day 5: Lama lodge – trek to Langtang
Day 6: Langtang – trek toKyanjin Gompa
Day 7: Rest day
Day 8-9: Acclimatization. trek to  Kanjing Ri 4600m. Tserko Ri 4980m. or Yala 5,500m.
Day 10:Kyanjin Gompa – Trek to Ganjal BC
Day 11: Ganjal BC – High Camp
Day 12-13: Climb and Summit Naya Kanga back to Ganjal B C
Day 14:  Ganjal BC – Trek to Kyanjin Gompa
Options to return to Kathmandu via Shyabru or Over Kangja La pass & Helumbu or via the Gosainkuda trek. count approximately 5 days.
Total days : 18 to 20 days Kathmandu – Kathmandu
you can choose to climb Yala 5,500m. as the main objective and trek the Gosainkuda trek which make a great easier mountaineering objective with a fantastic trek.
video of Naya Kanga expedition