Dear friends. Adventurers, skiers, climbers, hikers
June 12, 2012
Still raining and snowing across the alps but enjoying some great indoor climbing and via Ferratas like the Plan-Praz via above Leysin, Steep and overhanging protecting us from the rain.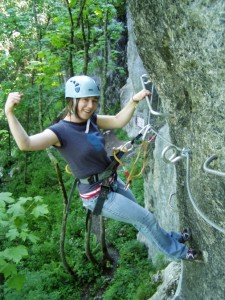 May 30, 2012
The weather has improved and the climbing & hiking  season is upon us. I was rock climbing all last week with different school groups  and during the weekend I was exploring a new via Ferrata near Saillon, Switzerland. It felt so good to be out, enjoying this great weather.
The condition in the Alps are improving and soon we will be able to climb the bigger peaks. Matterhorn, Mont Blanc, Dent Blanche and much more. let me know of your plan and we will design your next climb together
From the end of August I will be in Colorado and like in the past will work with Aspen Alpine guide in order to offer full access to the many 14,000 ft peaks like the Maroon Bells, Capitol peak, Pyramid.
Just contact me with your project and we will design your next climb, expedition. I hope to see you soon!
Jean.