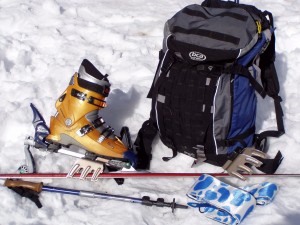 Ski Mountaineering Equipment List:
Technical gear:
Transceiver/Shovel/probe
Harness & Prussiks
2 Locking carabiners
Ice axe ( short 50 to 60 cm.)& Crampons
Personal gear:
Alpine Touring skis with AT bindings or telemark skis
Alpine Touring boots or telemark boots (make sure they fit well)
Ski crampons / Adjustable poles / Climbing skins
Snowboard package. (I recommend the split board system)
Back pack (45L – 50L)
Warm Hat (wool or fleece) & Sun hat or visor
Sunglasses & Goggles (flexible and carrying case)
Light weight gloves (fleece) & Heavy weight gloves or mittens w/ Goretex shells
Neck gaiter or scarf
Layering system:
Light, Mid weight Capilene underwear – top and bottoms (1 set)
Warm socks and liners (2 sets)
Sweater or Synchilla fleece jacket/ pullover
Jacket – Goretex with good hood & Ski pants and Goretex pants
Cotton T- shirt – for hut (1)
Down coat is not useful but if you do bring one, make sure it is very compact. Better to use a puffball style.
Other items:
Camera, film & batteries / Sunscreen & lip screen
Personal items – toothbrush, toothpaste, handi-wipes
Extra pair of prescription glasses or contacts (and contact solutions) – if applicable
Prescription medication / Small first aid kit – aspirin, Advil, moleskin, tape
Head lamp & batteries
Water bottle – Nalgene (1) and Thermos – unbreakable
Ear plugs / Passport
Money for extra food and incidentals in huts
Lunches and snacks for the tour.
What is Needed and Not Needed:
We do not need a sleeping bag since the huts are equipped with blankets, you may use a sleeping sac, I do not use any myself. The huts operate like a restaurant, you can buy, drinks, snacks, postcards, T-shirts. Breakfast and dinner are serve at one time and are healthy meals. Still!! These are mountain huts and the sleeping arrangement is dorm style, the outhouse is separated from the hut( short walk). No water available for washing just for the teeth, I suggest "wet ones" instead. Each hut has a corner to dry clothes if needed, overall they are warm and cozy. Hut are equipped with phone and you will be able to use a phone card to call the US if needed (I successfully use ATT & MCI card)
Personal gear:
Ski gear: Alpine touring boots, skis with AT bindings, skins, skis crampons, poles. Or same with telemark set up. The safety gear include, tranceivers, probe, shovel, harness, ice axe, crampons. You do not need to have much extra maybe one pair of socks and a cotton Tshirt, We can dry things well over night. The lightest pack possible make for an easier tour. Use a light pair of gloves for most uphill and a heavy pair for downhill and stormy days, sun glasses and goggles can be hard to protect, leave them near the top of your pack in a case you need them. Bring a small first aid kit to deal with blisters if needed, have some aspirins and band aid. Do not forget sun cream and lip protection and a base ball cap. The sun can be intense. For clothes use the layering system. In a storm you should have three to four layers on. On the bottom use long Jones, ski pants and Gore-Tex. Some people prefer to use Gore-Tex as day pants, with a good zipper you should be able to vent them well. Top, you need, first a comfort layer, silk or capilene, second a warm layers that breath well but is warm, fleece turtleneck plus fleece jacket. At last the Gore-Tex jacket that protect you well against wind, snow, cold. For Snacks: diversity is the Key, bring what you like to eat.
If you decide to tour with a snowboard, please let's set a meeting time to talk. In the past I tried short skis, snowshoe and split board. I recommend the split board but a high level a proficiency is require. One must be able to handle hard spring snow as well as deep snow. From the previous experiences it is not easy especially with deep snow.