Day 1: Meet in Zermatt, review gear and condition.
Day 2: Ride the Klein Matterhorn lift, Ascent of Breithorn 4,164m. decent and traverse
to Val  D'Ayas refugio 3,400m.
Day 3: Ascent of Pollux 4092m. Traverse and ascent of Castor 4,228m. to refugio
Quintino Sella at 3,585m.
Day 4: Ascent and traverse of Liskamm, descent to Gnifetti hut
Day 5:  Ascent of Pyramid Vincent 4,215m. Balmenhorn 4,167m. Corno Nero 4,321m.
Ludwigshohe 4,341m. Parrotspitze 4,432m. Signalkuppe 4,554m. where we spend the
night at the Marguarita hut
Day 6:  Ascent of the highest point of the traverse, the Monte Rosa 4,634m. to reach the
summit we will climb first the Zumsteinspitze at 4,563m. then traverse along a beautiful
mix ridge to reach Grenzgipfel and Dufourspitze. Descent via the normal route.Return
to Zermatt
Day 7:  Weather day . Option to continue on the Matterhorn ( 2 more days).
Option Matterhorn:
Day 8: Hike to Hornli hut. Reconnaissance of the bottom part of the Matterhorn that we will climb in the dark the next day.
Day 9: Matterhorn Ascent, Along beautiful day. Weaking up at 3:00 am it is a 10 to 12 hours day of interesting climbing to an awesome peak. Return to Zermatt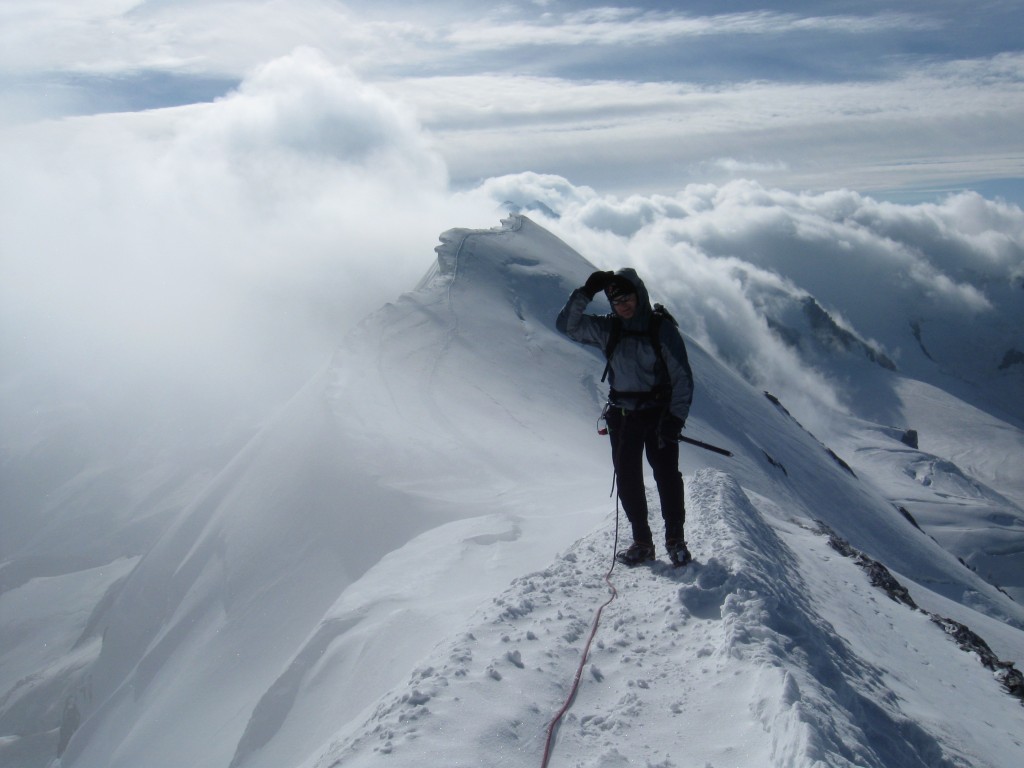 Difficulty:
This tour require a strong level of fitness, mountaineering experience walking with crampons, scrambling and easy rock
climbing.
Tour dates:
Any time between July 10 – September 15
Note:
The training portion can be done on a 2:1 ratio. The Matterhorn ascent is done on a 1:1 ratio
Tour for bigger group can be easily organize, but the Matterhorn ascent remain with 1:1 ratio. Extra guides will join the group just for the ascent
Price 7 days tour   
Contact for details information
Price 9 days tour,  With Matterhorn
1 person Call for pricing
2 persons Call for pricing
Services Included:
Professional guide fee & expenses
4 nights Hut fee with breakfast and dinner
Transport during the tour
Lift to Klein Mattehorn
Train from gornergrat to Zermatt
Group technical equipment
Radio, first aid kit
Services Not Included:
Hotel in Zermatt
Meals in town
Personal gear
Transfer to and from Zermatt
Pic-nic lunches, snacks
incidentals