Tour Description:
This is a short tour, but it gives the participants just enough time to acclimatize and train on two peaks before climbing the Matterhorn. This is the minimum to insure success. If you feel you need more practice, if you do not have all the skills necessary I suggest the 7/8 days tour that will give you more time to learn all necessary techniques and become familiar with alpine climbing style.
Itinerary:
Day 1: Meet in Zermatt (early morning), review gear, condition and tour. Train ride to Rotenboden, ascent of Riffelhorn review of rock climbing techniques
Day 2: Lift ride to klein Matterhorn, traverse of Breithorn plateau and Di Verra glacier ascent of pollux 4092m/13'299ft, descent to Vald'Ayas refugio.
Day 3:  Ascent and traverse of Breithorn, 4076m. a great ridge traverse with snow,ice and rock climb. Return to Zermatt.
Day 4: Hike to Hornli hut, reconnaissance of the bottom part of the Matterhorn that we will climb in the dark the next morning.
Day 5: Ascent of Matterhorn, 4476m. A long day that start at 3:00 am and last for 10 to 12 hours. Return to Zermatt that day.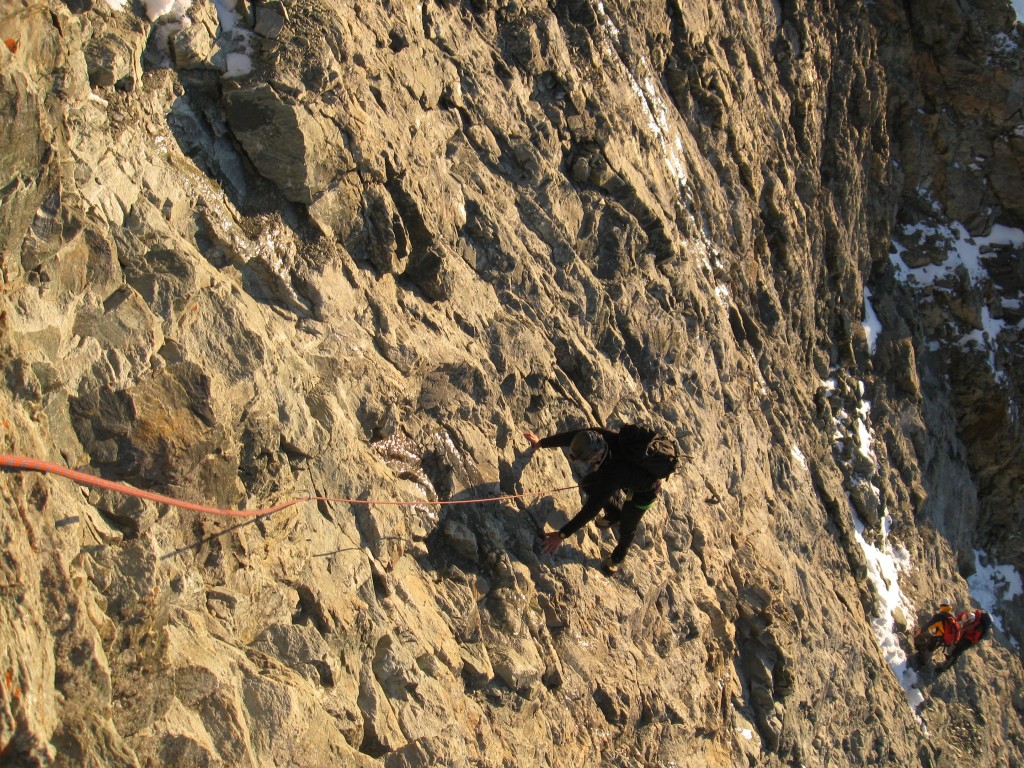 Difficulty:
This tour require strong physical condition and previous mountaineering experience.
Tour Dates:
Any time between July 1 – September 15 on a custom basis.
Important Notes:
The training portion can be done on a 2:1 ratio. The Matterhorn ascent is done on a 1:1 ratio Tour for bigger group can be easily organize, but the Matterhorn ascent remain with 1:1 ratio. Extra guides will join the group just for the ascent.
Cost Per Person, 2020:
1 person – $ 6,500 as presented but can be adjusted base on your request.
contact us for additional climber or bigger group.
Services Included:
Professional guide fee and expenses
Hut fee with breakfast and dinner (2 nights)
Transport during the tour, Cable car to Klein Matterhorn.
Lift to Scharwzee.
Group technical equipment
Radio, first aid kit, rope, climbing hard ware.
Services Not Included:
Hotel in Zermatt
Meals in town
Personal gear
Transfer to and from Zermatt
Lunches/snacks