Itinerary Rongai route:
Day 1: Arriving at Kilimanjaro airport, transfer to hotel  in Arusha
Day 2: Transfer to Kilimanjaro mountain resort. final preparation for the trek
Day 3: After completing the necessary registration formalities at Marangu National park gate, we transfer to Rongai. the climb begins from NaleMoru 1,950 meters on a small path that winds through field of corns and potatoes before entering the  pine forest. The track then starts to climb consistently but gently through attractive forest that shelters a variety of wildlife  including the beautiful Kilimajaro Colobus monkey. The forest begins to thin out and the first camp, Rongai One is at the edge of the Moore land zone. 2,600 meters with extensive views over the Kenyan plains (4 hours walking)
Day 4: The morning walk is a steady ascent up the to the second cave (3,450m) with superb views of Kibo and the eastern ice field on the crater rim. After lunch we leave the main trail and strike out across the moorland on a smaller path towards the jagged peak of Mawenzi.    Kikiewa campsite is in a sheltered valley with giant senecios near Kikelewa caves (3,600m – 6-7 hours walking)
Day 5: A short but steep climb is rewarded by superb all-round views and a tangible sense of wilderness . We leave vegetation behind shortly before reaching the next camp at Mawenzi Tarn (4,330m) spectacularly situated in a cirque directly beneath the towering spires of Mawenzi. (4 hours walking)
Day 6: Rest day. climb towards the Mawenzi tower. a perfect camp for acclimatization
Day 7: We cross the Lunar desert of the saddle between Mawenzi and Kibo to reach Kibo camp site (4,700m) at the bottom of the Kibo crater wall. the remainder of the day is spent in prepartation for the final ascent. Early diner and night! (5-6 hours walking)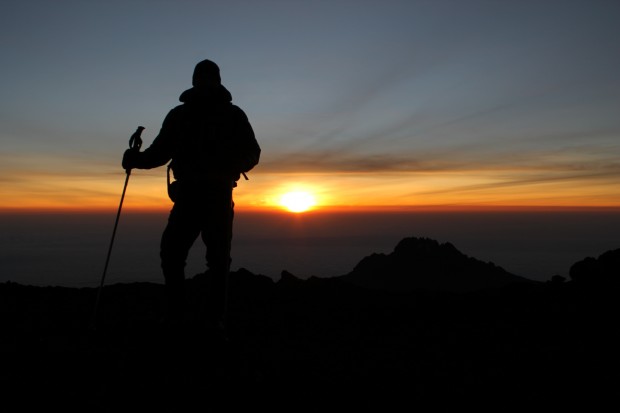 Day 8: We will start the final and by far the steepest and most demanding part of the climb with our headlamp around midnight. we wlk slowly in the darkness following switchback trail through loose volcanic scree to reach the vrater at Gillman's point(5,685m) We will rest there for a while enjoy the spectacular sunrise over Mawenzi. From there we still have one hour walk along the crater rim to Uhuru peak at 5,896 meters, passing close to the spectacular glacier and ice cliffs that still sit on top of the peak and summit area. the descent to Kibo (4,700m) is surprisingly fast and after refreshment, short rest we will continue the descent to Horombo camp at ( 3,720m) 11-15 hours walking.
Day 9: A steady descent takes us down through moorland to Maranda hut ( 2,700m) We then continue descending through lovely lush forest on a good path to the Marangu National park gate (1,830m) 5-6 hours walking.
Day 10: continue onto a safaris: Serengueti, Ngonrongo, Arusha, Selous, lake Manyara or Transfer to airport for departure.
Dates: year round.
Price: Contact us for information – based on number of people.
Services Included:
transfers
entrance fees
taxes
hotels including meals
tents on kili, guide
cook
waiter
porters
dining tent
chairs
table
biological toilet.
Services Not Included:
visa
air fare to Kilimanjaro airport
Hotel in Arusha
airport taxes
tips
drinks
souvenirs
Personal gear
Insurance
Support:
The hotel Kilimanjaro mountain Resort is a first class hotel with swimming pool, great food. Our support team is excellent with great porters and cooks, good service all along. Individual tents (2 pers tent), hot water, big dinning tent and great meals.The hotel organize safaris with private driver, jeep, full service, dining tent, cooks and waiter, guide.