Equipment – general advice
For the lower altitudes you will probably be able to trek in shorts and a T-shirt on the first day. Rain is not uncommon in this lower area. Walking uphill will generate body heat which will reduce the need for warmer clothing somewhat, particularly if conditions are still and sunny. However, as soon as you stop moving or lose the effects of the sun, conditions can quickly become much colder.  At higher altitude you must avoid wearing cotton clothing: this, when wet through sweat and perspiration, can quickly become dangerously cold. Synthetic clothing, such as thermal long johns and polar fleece is preferable; a layering principal, where you can use a number of thin and medium-weight levels of clothing rather than just one or two thick levels, provides far more flexibility in enabling you to dress at any given time to suit prevailing conditions. A minimum three layers is recommended for upper body wear.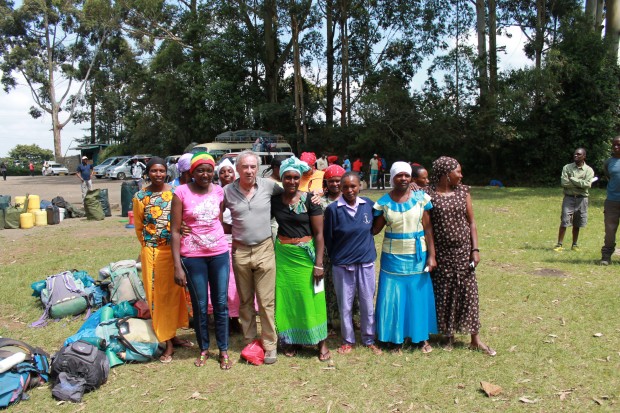 A duffle bag, for your main luggage. This will be carried by porters (max 12 kilos when packed). You can then use your own travelling bag to leave at the joining hotel with your excess luggage.
A down jacket for use at night when you arrive into camp.
A good warm sleeping bag with hood: rating 4 seasons or better (down to -20 °Celsius)
An inner sleep sheet. For extra insulation, or if you feel the cold we recommend you bring a thermal sleeping sheet (basic mattresses & pillows are provided in the huts – mixed dorm share)
A day pack (at least 35 liter capacity) for the items you will want during the day while you are walking – including water bottle, camera, warm clothing, etc. You will not have access to your main bag whilst walking during the day, so ensure your day pack is large enough.
Sturdy water bottle: Nalgen brand or similar. At least 3 litres. It is most important to drink large quantities of water to help you acclimatize to increasing altitude. Water is collected en-route from streams and purified with Micropur – water purification tablets. These are neutral in flavor, however you may like to bring some powdered flavoring to make the water taste better.
A wide-brimmed sunhat (with a chin strap in case of wind).
Strong sun screen and Lip or zinc cream
Good quality sunglasses – with side protection to protect against strong UV rays and ice glare at higher altitude. Plus spare prescription glasses if necessary. (Avoid metal rims if possible on prescription and sun glasses – they may freeze on your face in extreme cold.)
Headlamp, spare batteries (two sets). Headlamp are more practical, especially for the climb from the top hut or camp to the summit which usually commences between 1 and 2am.
A small towel for the climb only. Face cloth and soap/wet wipes for a quick body wash to freshen up (there are no showers available on the mountain).
Camera and any additional photographic equipment, fresh battery and a spare battery
Warm gloves: thin inners and a thicker outer pair of waterproof mitts.
Warm woolen or polartec hat or balaclava – make sure it can cover your ears.
Warm trousers (not jeans or cottons) or tracksuit pants for the middle altitudes. Fiberfil 2 pants for the higher altitudes are suggested.
Sturdy waterproof/windproof knee-length jacket with hood (Gore-Tex is best).
Waterproof/windproof trousers (zippered bottom legs to enable the pants to be put on or removed without taking off your boots are useful).
Thermal (polypropylene) long johns.
Thermal (polypropylene) long-sleeved T-Shirt
Warm lightweight wool pullover or polar fleece (100 pile)
A polar fleece jacket (200 or 300 pile)
A good pair of hiking boots which are worn in and spare laces. Ideally leather upper and waterproofed
Spare pair of trainers or similar to change into after completing the day's walk.
Thick socks – at least one pair per day. Thinner socks to wear under thick socks – help to keep feet dry and prevent blisters.
A pair of gaiters to at least mid-calf may be useful on the upper slopes to protect against snow and scree, and against mud lower down.
A walking pole or pair of poles (with adjustable height) can be very useful and are strongly recommended.
Toilet paper – carry in a strong plastic bag, plus matches or lighter. If you need to go during the day, please burn the paper responsibly (ensuring that that is all that is burnt).
Snacks – a supply of chocolate or glucose-based sweets can be very useful. Powdered milk is not available in Tanzania, and a little might come in useful for your tea and coffee. A favourite spread can also be a little luxury.
Sturdy plastic bags – garden strength or similar. To line your main bag and day pack for use in case of rain or snow.
You may be able to wear shorts and a T-shirt on Day 1.
Warm thermal underwear or tracksuit to wear in sleeping bag at night. It is often appreciated if you take old jerseys/tracksuits etc to give to your porters/guides after your climb.
$US cash for gratuities at end of climb and a couple of celebratory drinks.
Any other sundries such as small mirror, toiletries etc….On some days, your walking will finish by mid-afternoon. We recommend you take a good book/diary/cards/pen.
You should also take a small medical kit. You will need:
A blister kit
Plasters
Medication for upset digestive system (anti-nausea/anti-spasmodic/anti-diarrhea),
Creams to prevent infections from cuts
Mild aspirin or paracetamol. pain killers should be avoided as they may mask potential severe high-altitude problems.
Diamox may be considered to offset the effects of altitude: please discuss fully with your medical adviser as opinions vary as to its effectiveness.
Rehydration sachets.
Anti-inflammatory cream (mainly for aching joints on descent!)