Technical gear: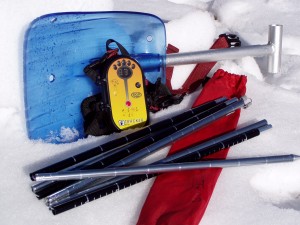 Transceiver/Shovel/probe
Harness & Prussiks
2 Locking carabiners
Ice axe (short 40 to 50 cm.) & Crampons
Personal gear:
Alpine Touring skis with AT bindings or telemark skis
Alpine Touring boots or telemark boots (make sure they fit well)
Ski crampons / Adjustable poles / Climbing skins
Snowboard package. (I recommend the split board system)
Back pack (45L)
Warm Hat (wool or fleece) & Sun hat or visor
Sunglasses & Goggles (flexible and carrying case)
Light weight gloves  (fleece) & Heavy weight gloves or mittens w/ Goretex shells
Neck gaiter or scarf
Layering system:
Light, Mid weight Capilene underwear – Zip-T (turtleneck) top and bottoms (1 set)
Warm socks and liners (2 sets)
Sweater or Synchilla fleece jacket/ pullover
Jacket – Goretex with good hood & Ski pants and  Goretex pants
Cotton T- shirt  – for hut (1)
Down coat is not useful but if you do bring one, make sure it is very compact. Better to use a puffball style.
Other items:
Camera, film & batteries / Sunscreen & lip screen
Personal items – toothbrush, toothpaste, handi-wipes
Extra pair of prescription glasses or contacts (and contact solutions) – if applicable
Prescription medication / Small first aid kit – aspirin, Advil, moleskin, tape
Head lamp & batteries
Water bottle – Nalgene (1) and Thermos – unbreakable
Ear plugs / Passport
Money for extra food and incidentals in huts
Lunches and snacks for the tour